<![if !vml]>

<![endif]>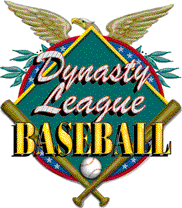 The Difference that Makes the Difference
DYNASTY League Baseball goes beyond the basics of reproducing hitting, pitching, and fielding statistics and focuses in on the subtleties that make baseball the fascinating game that it is. While on the surface other games might appear to have similar features, the difference is in the underlying level of detail that makes each play Super Realistic.

The real strength of DYNASTY League Baseball is not just in it's realism, but in the elegance and transparency in which play unfolds giving you a critical strategic understanding of the logic behind determining play results.




A Closer Look: How to Play



How to Play brochure with color player cards


Ease of Playability: Complexity Made Simple
Three percentile dice activate play and are read in the order red, white and blue to generate a number from 0-999. The numbers 0-499 are found on hitter cards, while 500-999 are located on pitcher cards.


Paul Molitor player card from Greatest Teams 1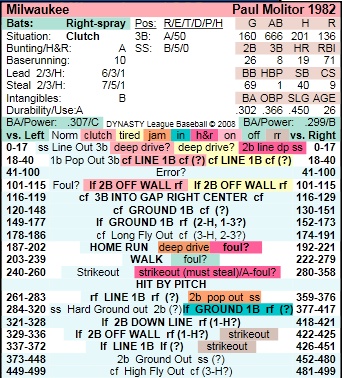 If #168 is rolled with Paul Molitor at bat vs. Baltimore 1982 right-hander Dennis Martinez you'd look down the vs. Right column on "the ignitor's" card (0-499 are always on the hitter card) to find the result: lf GROUND 1B rf (2-H, 1-3?). Molitor grounds a single into rf (lf vs. a left-handed pitcher).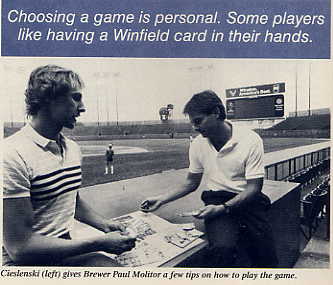 Dennis Martinez Pitcher card from Greatest Teams 1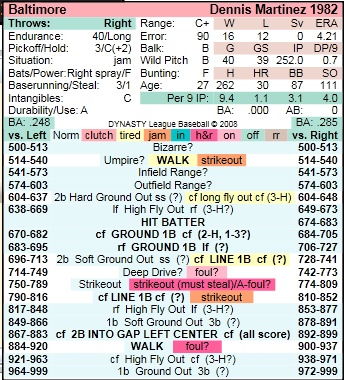 You'll also notice that baserunner advancement options are made fast and easy by appearing right on the player card in parenthesis. With Molitor 's GROUND 1B, the runner on second comes home and the runner on first has an option to go to third by going to the BASERUNNER chart.

Smooth playability is made possible because of a unique player card design that includes not only normal play results, but special situational results coded right on each player card so that you are automatically prompted to check other situations and not have to remember different rules.

If the #40 is rolled, the result in a normal situation would be a pop out to 1b.

When you see other coded results on the line, just ask yourself if any of these situations apply.

Red results are clutch situations (see situation key). If this is a clutch situation, the red cf LINE 1B cf (?) result would be used if Molitor has a Clutch Situation rating. If you check his Situation rating in the upper left-hand corner of the card, Molitor has a well-deserved Clutch Hitting rating.

These two features allow for fewer outside chart referrals. You'll also find the charts organized so you can quickly find the chart you are looking for.



NEW! DYNASTY League Baseball 2016 Official Rulebook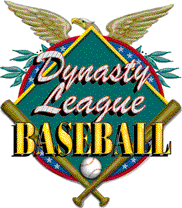 The Commissioner's Office: Bud Selig take notes.
A well run league has several key elements: parity, fairness, realism, constant inflow of talent into the annual draft, a talent pool that is realistic and allows for expansion and smooth operation. The DYNASTY League official rules provide you with these key elements. These rules have been tested during the last seven years to provide you with a bidding style draft, salary caps, 3 year contracts with guaranteed club options, buy out options, a prospect draft and a restricted talent pool to insure realism and allow for expansion. In the computer versions you'll be able to track contracts and salaries and organize your league with maximum efficiency.
The Dugout: Style, guts, savvy, genius, percentages, respect, a hunch and luck.
You'll decide to...



manage aggressively like Phil Garner and Whitey Herzog by putting on the double steal and forcing the defense to decide to throw through or concede the stolen base at 2nd....



keep an extra catcher or another arm in the pen...



wave speedster Lou Brock around to score or hold him at 3rd with canon armed Roberto Clemente charging the ball...bat Paul Molitor in the #1 or #3 slots in the batting order...



bring a flame throwing right-hander like Goose Gossage out of the bullpen or a crafty lefty like who can get batters to hit the ball on the ground in double play situations...



platoon John Lowenstein who hit .324 vs. RH and .143 vs. LH or give him a regular spot in the lineup...



bring in Tito Landrum as a defensive replacement for Lonnie Smith in the bottom of the 9th inning of a tie ball game...



give Davey Lopes the "green light" to steal with rifle armed Johnny Bench behind the plate and a tough pitcher to run on like Don Gullett on the mound...



flash the suicide squeeze, hit and run and sacrifice bunt signs or play for the big inning...go with a lineup based on power, high averages, speed or good glove men.....



bench a problem player to try to get his head together...change your lineup and pitching rotation to best fit the ballpark you're playing in...
The Front Office: Riverboat gambler, big bucks, short term fix or long term plan.
You'll decide to...



make a blockbuster deal for the franchise centerfielder you covet and hope your young pitchers come through by trading your ace pitcher. ..



get the lefty you need in the bullpen by making a clever minor deal ...



callup a hot prospect from the farm system...



change the makeup of your team to best fit the park you're playing in...



trade one of your best minor league prospects to a team out of the race that has a quality veteran starting pitcher that could make the difference in the pennant race...



sign a player to a long term contract or let him go back into the free agent pool and hope you can resign him for a lower amount...



build your team from low cost young players out of the farm system or open the vault and try to turn around your team in a hurry with high priced free agent veterans.
Replays: Season replays and Pennant Race Scenarios
Take your favorite team through an entire season as you experience the drama of the season unfold from Opening day through the All-Star game and the red-hot pennant races. You can also play a Pennant race scenario by picking up the season for the final dramatic month.

How accurate are the results?
Stat accuracy to within 95% of actual.

Download the 1970 Milwaukee Brewer season replay Excel file
played by Jerry Lamberth from the UK


A Closer Look: Hitter's Cards
Hitting: Inside the hitters' cards
A very sophisticated data base and computer program is used in creating each DYNASTY League Baseball player card/file.

Scouting reports on each player card provide in-depth information.

A hitter's BA, SLG, OBP, 2B, 3B, HR, SF, BB, SO, HBP and GDP will be reproduced precisely including league average adjustments to normalize high season offensive totals (1987) or defensive totals (1968).

The Best of Baseball series featuring the greatest seasons in baseball history includes actual vs. LH and vs. RH statistical batting breakdowns.


Ratings: First rate player rating evaluations that are in a league of their own.
A tremendous amount of effort goes into the creation of the player ratings to give you the best possible replication of a player's strengths and weaknesses.

Most ratings are on a 1-10 scale or A-F including A+, B+ and C+ to give you a broad spectrum of ratings and precise statistical accuracy.

The ratings are devised from thoroughly researched and tested formulas and computer calculations. In some cases though, you simply can't devise a formula that will take all factors into account. That's why it's important to look at more than one stat and at times get evaluations from informed sports writers, broadcasters and experts who cover the team and even players and managers scouting reports. It's this kind of effort combined with the foremost knowledge and insight into the game that makes DYNASTY League Baseball's ratings the best ratings of any baseball simulation game.
Lefty/Righty: Will you sacrifice defense for the platoon advantage?
Season stats are broken down vs. Left-handers and vs. Right-handers. If you're piloting '82 Baltimore, you'll have to decide whether to platoon Gary Roenicke (.281 vs. LH, .263 vs. RH) and John Lowenstein (.143 vs. LH, .324 vs. RH) in left field or get Roenicke's glove in the lineup everyday.
Power: Who will reach the roof in Tiger Stadium or Waveland Avenue in Wrigley Field?
Look for Willie McCovey (San Francisco '69), Harmon Killebrew (Minnesota '69), Jim Rice (Boston '75) and Gorman Thomas (Milwaukee '82) to provide awesome power, sending balls 450 feet or more, while Larry Bowa (Philadelphia '77) will never be a threat (1). If you're like Tommy Lasorda or Sparky Anderson you might just intentionally walk McCovey to keep him from beating you with one swing.
Situation Hitting: Who comes through in the clutch?
You'll see hitters like MVP Robin Yount (Milwaukee '82), consistently come through with the big hits in clutch situations (tying or go ahead run on base or at bat or runners in scoring position with 2 out). Clutch hitting ratings have to be earned and Yount certainly earned his Clutch Hitting rating in 1982.


Stealing: Who's the best bet to steal home?
Each player is rated for his ability to get a good lead and jump. In addition, players have individual steal ratings for 2nd, 3rd and home that factor in how frequently he tried and how successful he was at stealing each base. You'll thrill seeing Rod Carew's 10 steal of home rating, when he set a record 7 steals of home in 1969.
Catchers Throwing Arms: Canon arm or weak wing? Bench and Pocoroba
As manager, you'll enjoy turning loose speedsters Lou Brock (St. Louis '69), Joe Morgan (Cincinnati '75) and Davey Lopes (Los Angeles '77), but be wary of catchers like Johnny Bench (Cincinnati '75) and Rick Dempsey (Baltimore '82) whose canon arms can thwart even the best basestealers. Biff Pocoroba (Atlanta '82) will have trouble throwing out anybody faster than Gene Tenace (St. Louis '82) will. Dick Dietz (San Francisco '69) will wind up throwing the ball away on steal attempts more often than the rest of the leagues backstops.
Range: Gold Glove or Iron mitt?
Ozzie Smith (St. Louis '82) is the standard by which shortstops are judged. That's why DYNASTY League Baseball's range ratings include special ratings such as A+ that separate performance that is the best in the league for a particular year from performance that is among the best of All-Time.

Range ratings are based on several criteria including Range factor, Zone ratings and input from Scouts and writers. Paul Blair (Baltimore '69) will be a standout in centerfield making catches on balls other centerfielders wouldn't get close to. Ken Singleton (Baltimore '82)? Well, you'll want to use him as the DH.
Errors: Too much linguine with clam sauce?
Each player is individually rated for his fielding percentage on a scale of 5-100 in increments of 5 with adjustments made for players with very limited playing time at a position - no cheap 100 ratings here. Perfect 100's are reserved for Jim Rice (Boston '75) who'll play a flawless leftfield. Glenn Beckert (Chicago '69) will make an outstanding play at second, but may boot an easy ground ball on the next play. Brooks Robinson (Baltimore '69) will be an anchor in the Baltimore infield with his excellent range and consistent play at third. Deron Johnson (Philadelphia '69) will be very steady in the field making all the plays that he can reach, but his range will be limited in left field. Expect Tommy Lasorda to feel a pain in his stomach, not from too much linguine with clam sauce, but from Bill Russell's (Los Angeles '77) errors.
Outfielder's Throwing: Armed and dangerous.
Baserunners beware of Rusty Staub (Montreal '69), Ollie Brown (San Diego '69) and Dwight Evans (Boston '75) with their powerful throwing arms and don't forget about the great Roberto Clemente (Pittsburgh '69) who is the standard for OF throwing arms. Mickey Rivers (New York '77) and Lonnie Smith (St. Louis '82)? A baserunner's delight.
Baserunning: Lightning on the bases.
Lou Brock (St. Louis '69) and Joe Morgan (Cincinnati '75) will electrify the basepaths with their lightning speed and excellent baserunning instincts.
Bunting: the lost art?
Rod Carew (California '82), Don Kessinger (Chicago '69) and Fred Patek (Kansas City '77) will be excellent in sacrifice situations as well as bunting for a hit. Forget about bunting though if Boog Powell (Baltimore '69) or Greg Luzinski (Philadelphia '77) is at the plate.
Hit & Run: The contact men.
Rich Dauer (Baltimore '82) and Tommy Herr (St. Louis '82) will be able to find holes in the defense for base hits and protect and move up the runners on the hit and run play.
A Closer Look: Pitcher's Cards
Pitching: Inside the pitcher cards
Each pitcher's card/file is an exact recreation of his season statistics. A pitcher's ERA along with BA, SLG, OBP, 2B, 3B, HR, SF, BB, SO, HBP and GDP allowed will all be reproduced precisely including league average adjustments to normalize high season offensive totals (1987) or defensive totals (1968).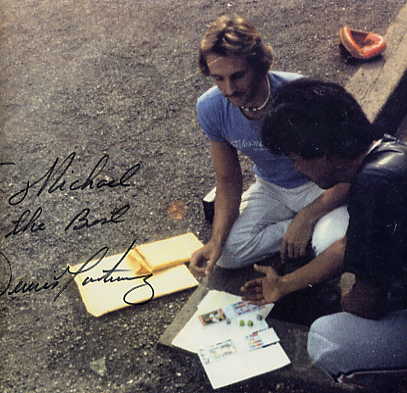 "El Presidente" Baltimore Oriole Dennis Martinez pitches the dice in the Milwaukee County Stadium dugout with Cieslinski's team at bat.
Lefty vs. Righty: Playing the percentages.
You'll discover most RH pitchers are tough on RH batters and most LH pitchers are even tougher vs. LH batters. Wilbur Wood (Chicago A '67) will be nearly untouchable vs. lefty hitters allowing 0 HR and holding them to a .208 batting average, but vs. RH he will not be as invincible allowing a .351 SLG and a .274 BA. There are exceptions though. Portsider Tug McGraw (New York N '69) whose repertoire of pitches includes a nasty screwball held RH to a .220 BA, but LH batters hammered him (.301).
Groundball/Flyball: Inducing the DP.
Sinker ball pitchers who rely on ground balls like Tommy John (California '82), Geoff Zahn (California '82) and Mike Caldwell (Milwaukee '82) will induce more DP's and be more effective on grass than on turf because infielders range will be reduced on turf. Ground ball pitchers will also have more groundball range plays. These same pitchers will also be good candidates to pitch in small ball parks like Wrigley Field, while flyball pitchers like Nolan Ryan (New York N '69) and Bob Gibson (St. Louis '69) will fare better in larger parks.
Pickoff/Hold: Think you can run against Steve Carlton?
Think again. Carlton's (Philadelphia '77) hold ratings will make it difficult to both attempt and steal successfully against him. Each pitcher has two parts to his hold rating. A letter grade for preventing runners from attempting and a numerical rating for the SB% against him. Pitchers also have a separate pickoff rating.
Situation Pitching: Cy Vuckovich and Schilling's 2004 ALCS bloody sock game
Remember how Pete Vuckovich (Milwaukee '82) won the Cy Young award in 1982? Vuckovich allowed 9.4 hits per game and 4.1 walks yet still had an ERA of 3.33 and a W-L record of 18-6. Even though Vuckovich will allow more baserunners than pitchers with similar ERA's, he will be able to duplicate his ERA because of his ability to get out of jams (JAM rating).

You'll also find that pitchers like Juan Marichal (San Francisco '69) and Jim Merritt (Minnesota '67) will keep themselves out of trouble by very rarely walking the leadoff man (OFF rating).

Pitchers like Jim Palmer (Baltimore '82) who never allowed a grand slam HR and Catfish Hunter (New York '77) who usually gave up his HR with the bases empty receive an ON rating.

Endurance: Will "Hoot" go the distance?
Pitchers are given an Endurance rating based on the number of pitches they can throw before tiring. Stronger pitchers like Bob Gibson (St. Louis '69), and Fergie Jenkins (Chicago N '69) will be able to go the distance much more often than pitchers like Don Sutton (Milwaukee '82) or Dave LaPoint (St. Louis '82) who will tend to run out of gas in the 6th and 7th innings.

Anytime after a pitcher reaches the number of batters faced (his Endurance rating) and then allows two batters to reach base he is considered tired. At that point, the yellow tired results on both the batter and pitcher's card are used instead of the blue normal results. The tired results increase a pitcher's walks, hits and home runs allowed while reducing strikeouts and double play ground balls.
Balk: What do Steve Carlton and Bob McClure have in common?
Both Steve Carlton (Philadelphia '77) and Bob McClure (Milwaukee '82) will commit more balks than most pitchers while trying to keep runners close.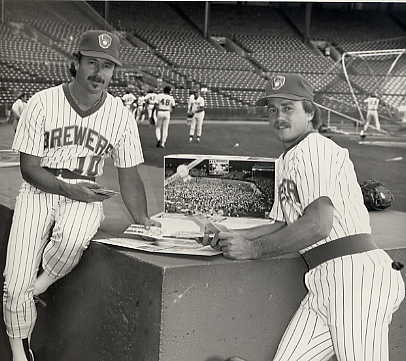 Brewers Bob McClure and Jim Gantner roll the dice in a game at County Stadium


Wild Pitch: The Wild Express.
There will never be a dull moment with Nolan Ryan (New York '69) on the mound with his tendency towards wild pitches. A stalwart defensive catcher like Jerry Grote (New York '69) will help out his staff by blocking some of the pitches in the dirt.
Injuries: Iron Man
Each player is rated for his durability based on the length and number of times on the DL. Brittle players like Carlton Fisk (Boston '75) will struggle to keep healthy and stay in the lineup. For them, a trip to the injury chart is a trip on the DL and quite possibly a season ending injury.

A player like Fred Lynn (California '82) will be dogged by frequent nagging injuries, but you can count on durable players like Billy Williams (Chicago N '69) to be in your lineup and rotation every day.
Intangibles: RESPECT
A large part of managing and building a team is getting 25 guys going in the same direction. It's called team chemistry. Usually the teams that have it win and the teams that don't lose. Each player is rated for the intangibles he contributes or takes away from team chemistry based on events during the season. Players intangible ratings are added up to get a team chemistry rating of Excellent, Fair or Bad. An excellent team chemistry rating will result in players running out ground balls; exuding confidence and coming through in the clutch or perfectly execute plays. Bad team chemistry will result in just the opposite. Team leaders Frank Robinson (Baltimore '69) and Ernie Banks (Chicago N '69) will play a vital role both on the field and in the clubhouse, while Richie Allen (Philadelphia '69) will have his own agenda.
Rosters: Down on the farm.
Each roster has approximate cutoffs of 40 AB and 25 IP - enough roster flexibility for a 12 or 13 man staff and 16 or 17 position players.
A Closer Look: Little Things That Make A BIG Difference
Ball Park Effects: From Cavernous Busch Stadium...
There are ballpark effects and then there are BALL PARK EFFECTS.

Roberto Clemente (Pittsburgh '69) is at the plate vs. Bob Gibson (St. Louis '69) in St. Louis Busch Stadium. A DEEP DRIVE result comes up, you will check to see how the hitter bats (Right-spray) and use the DEEP DRIVE LOCATION chart to find out what part of the park the ball was hit to. You can then determine how many feet the ball was hit by using the hitters power rating on the DISTANCE HIT chart. If Clemente hits the ball 385 feet to left field, you'll refer to the Busch Stadium ballpark chart that reflects how favorable it is for HR, 3B and 2B at each of seven different outfield locations. The ball does not carry well in Busch Stadium (-15 feet), but Clemente's 385 foot DEEP DRIVE just clears the left field fence for a HOMERUN!

...to the Green Monster

Hitters will find the Green Monster an inviting target to knock balls off of for 2B and into the screen for HR.

...to the wind blowing out at Wrigley Field.
Balls will travel further on warm days in Wrigley Field than on cold nights in Candlestick Park. With the wind blowing out in Wrigley Field the balls will get extra carry over the ivy-covered walls. The wind maybe blowing out at a light 0-9 MPH breeze or whipping out at 20-29 MPH with lots of souvenirs for the bleacher bums and fans on Waveland and Sheffield Avenues.
Visualization of Plays: Bang-Bang plays and snow cone catches.
Bang-Bang plays on slow rollers, diving stops of smashes up the middle, balls getting thru deep into the hole, snow cone catches of sinking liners and diving catches of balls shot into the gap are just a small sampling of an incredible number plays you'll experience.
Umpire Effects: Why do pitchers take notes?
There's a reason why many pitchers take detailed notes on umpires. Umpires have a significant effect on batting averages, walks and runs scored because of the differences in strike zone judgement by various umpires. You'll discover umpires like Larry McCoy and Ted Hendry with their large strike zones are a delight for hurlers, while Bruce Froeming consistently helps out the hitters with his small strike zones.
Weather: The coldest winter I ever spent was the summer in San Francisco.
Weather will play an important and sometimes crucial role. Each region has it's own weather effects broken down by month, day and night that determine temperature, sky, precipitation, wind direction and speed. Expect more errors on cold April nights in Milwaukee, Chicago and Detroit. In the warm months of July and August there will be juiced up scoring as pitchers tire early and balls carry further, unless of course you're in Candlestick Park. And don't be too surprised if Coors Field gets a snowstorm in April.
Bizarre Plays: Jose can you see...
#981 STADIUM WITH RF WALL 10 FEET OR LESS...
Right fielder goes back to the warning track on deep drive, but loses it and it bounces off his head and over the wall for a HR.
Pitcher Rest: The fine art of handling a pitching staff.
It's a rare breed of manager that is truly skilled at handling a pitching staff. Jim Leyland and Whitey Herzog are part of that elite group. You'll have to decide which pitchers, if any, will go on short rest and how to keep your staff rested and available. A catcher like Carlton Fisk (Boston '75) will be an added bonus for his ability to handle pitchers.
Player Rest: Using the whole roster.
You'll need to make sure your players are adequately rested. Catchers who play too many consecutive games or toil in the heat may suffer a reduction in their batting skills. Players with deceiving statistics, including minor league call-ups and platoon players, are restricted in their playing time.
NEW! A Closer Look: DYNASTY League Baseball Online version
Online version: An open system.
DYNASTY League Baseball Online features an open system that lets you see how results are resolved. DYNASTY League Baseball Online is a direct translation of the board game. If you wish, you can even follow along with the board game playing cards and charts because the die rolls are included for easy reference. You'll love the suspense as each play unfolds before you just like it does when going to the board game charts except you won't need to look up the results.
Radio Play-By-Play Style Text and Sound: Tuning in at night without the static.
Just as you might often turn the radio dial late at night to tune into far away baseball broadcasts, the play results will appear in radio play-by-play style text just as if you were actually listening to a game.
Stat Compilation, Box Scores and Reports: For the record.
Analyze your team and league by reading in-depth leader boards, individual stat lines, box scores and standings.
Ball Park Photo Backgrounds: Is it live or DYNASTY League Baseball?
You may not be able to tell! Spectacular color photos make the game so real you'll swear you are in any one of 30 current Ball Parks or historical ball parks.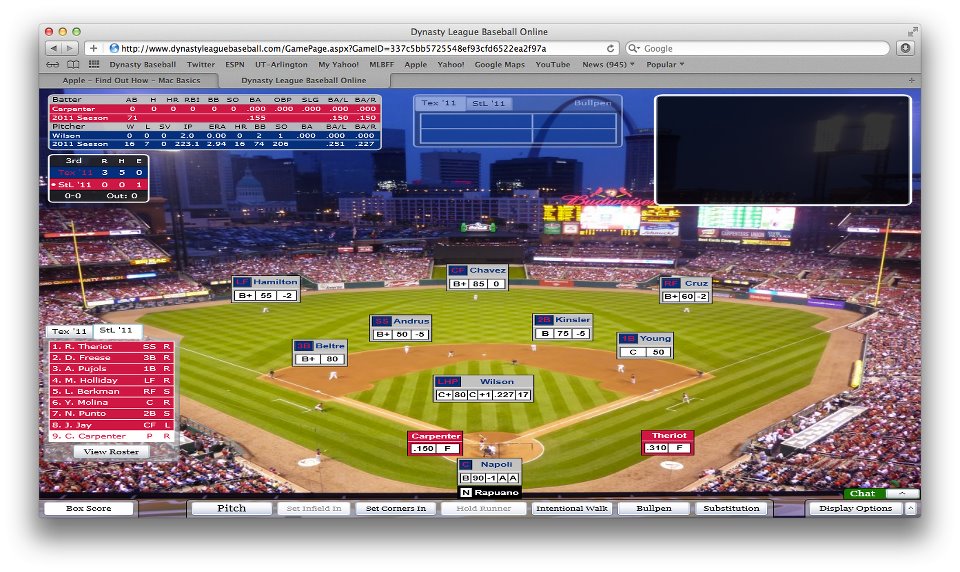 Playing Live Online on the internet: Bringing distant friends and league members to your home.
A dream come true for league play, tournament play or getting together with a friend for a series! Players from all different parts of the country can now play live vs. each other easily and quickly right in their internet browser using the new DYNASTY League Baseball Online version. There's just no substitute for live play.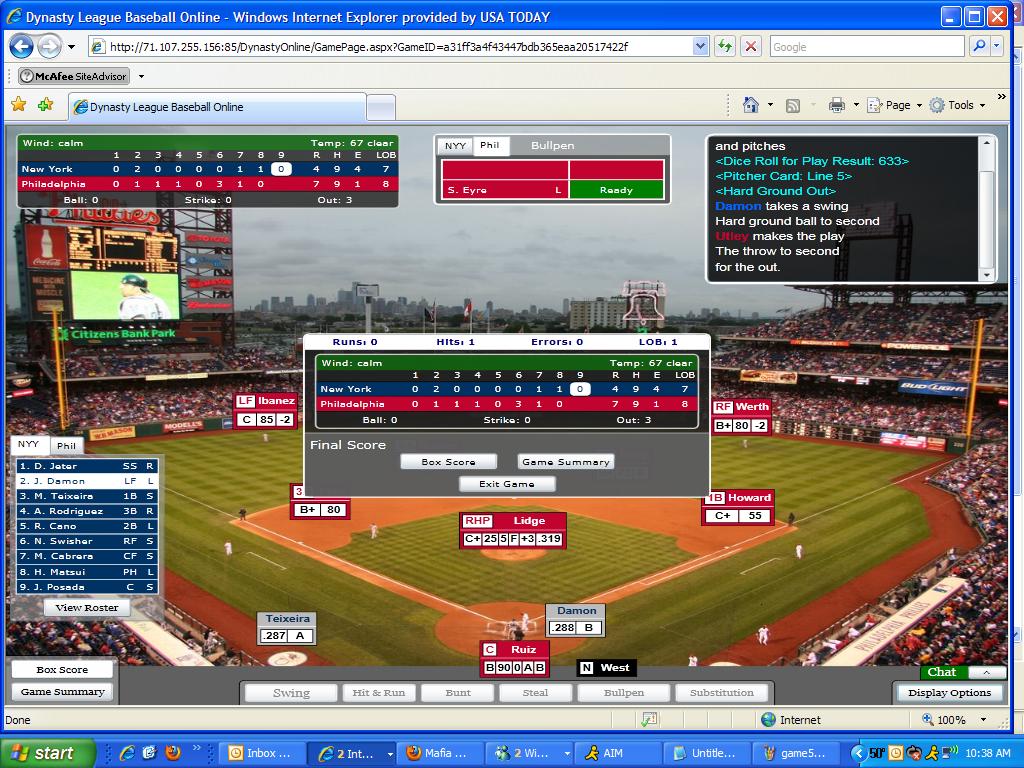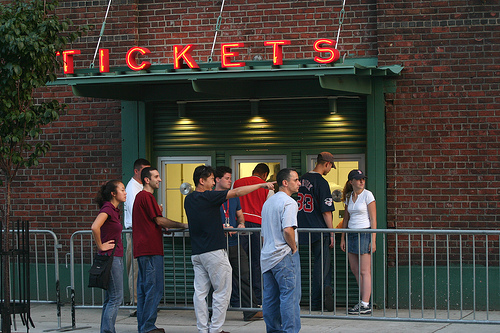 Experience the realism now! Go to the Ticket Window!
Home | Ticket Window | Subscribe