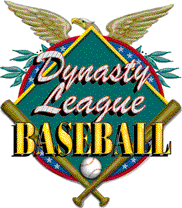 Why Fantasy Baseball isnít fantasy anymore.
Because DYNASTY League Baseball Online makes Fantasy Baseball so real that it no longer is about your ranking in stat categories, but how many games you win on the field.
You will take on the challenge as both GM and Manager just as Hall of Famer Whitey Herzog did and after the thrill of the live draft there are even more thrills ahead as you play live games vs. friends new and old. Learn more about draft leagues as featured in USA TODAY
---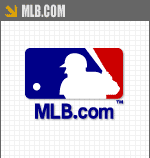 Houston, we have lift off! Now Available!
First live DYNASTY League Baseball Online version game
launch is perfect game


---


Love DYNASTY League Baseball and Pursue the Pennant?

You've just scratched the surface...

Start playing now by going to:
DYNASTY League Baseball Online



---


Why DYNASTY League Baseball Online changes everything...

DYNASTY League Baseball Online is all about taking Baseball sim keeper draft leagues and Greatest Team tournament play to the next level.

Maybe it's the next generation user interface shown below that runs right in your internet browser on Windows 7, Vista, XP and Mac OS.


The Game you always have time for

Maybe it's the new computer manager and scheduler that adjusts to your schedule not the other way around. No matter how much time you have or how little, there is always time for DYNASTY League Baseball Online.

The new Computer Manager and Scheduler let you decide if you want to play live or have your Manager profile take over to play your series.

Maybe it's the loads of new features that make continuous draft league and Greatest Team tournament play much easier, faster and fun.


Maybe it's the box scores, game summary play by play statistics and standings that are updated in real time after each game is played. How cool is that?

One thing is sure. This is going to change everything.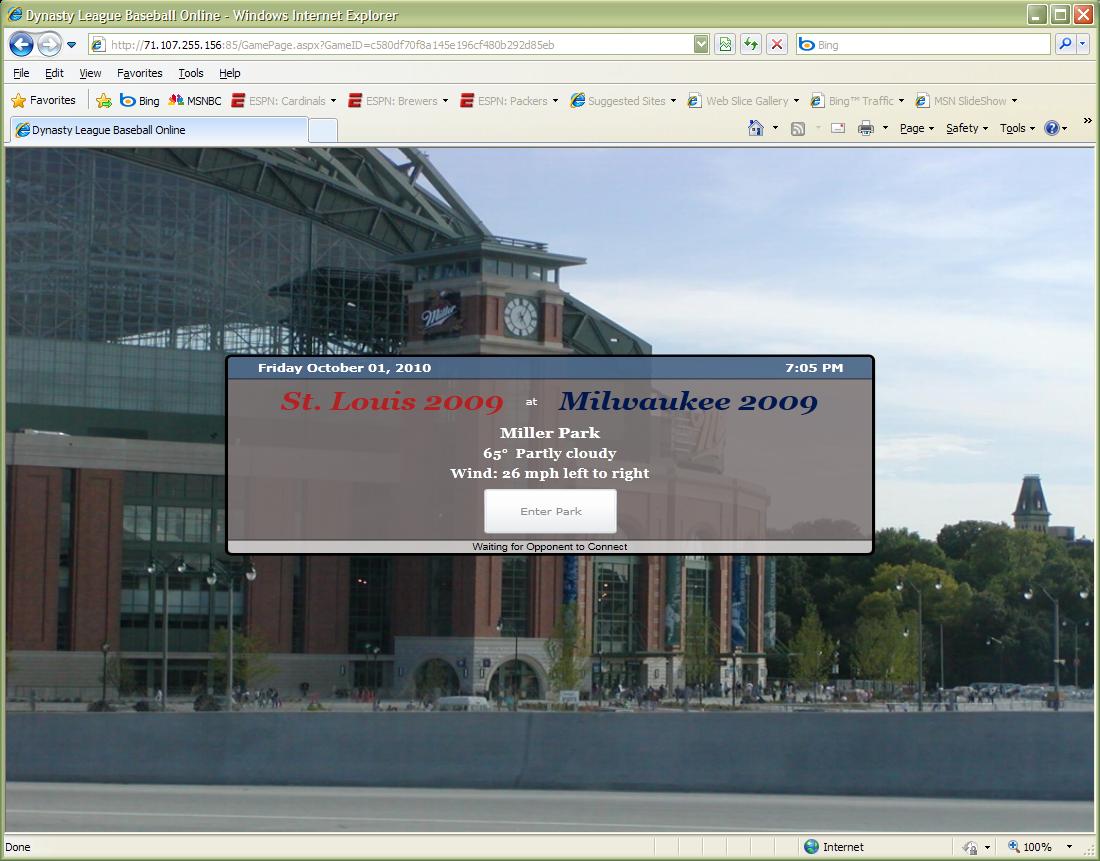 Above: Outside Miller Park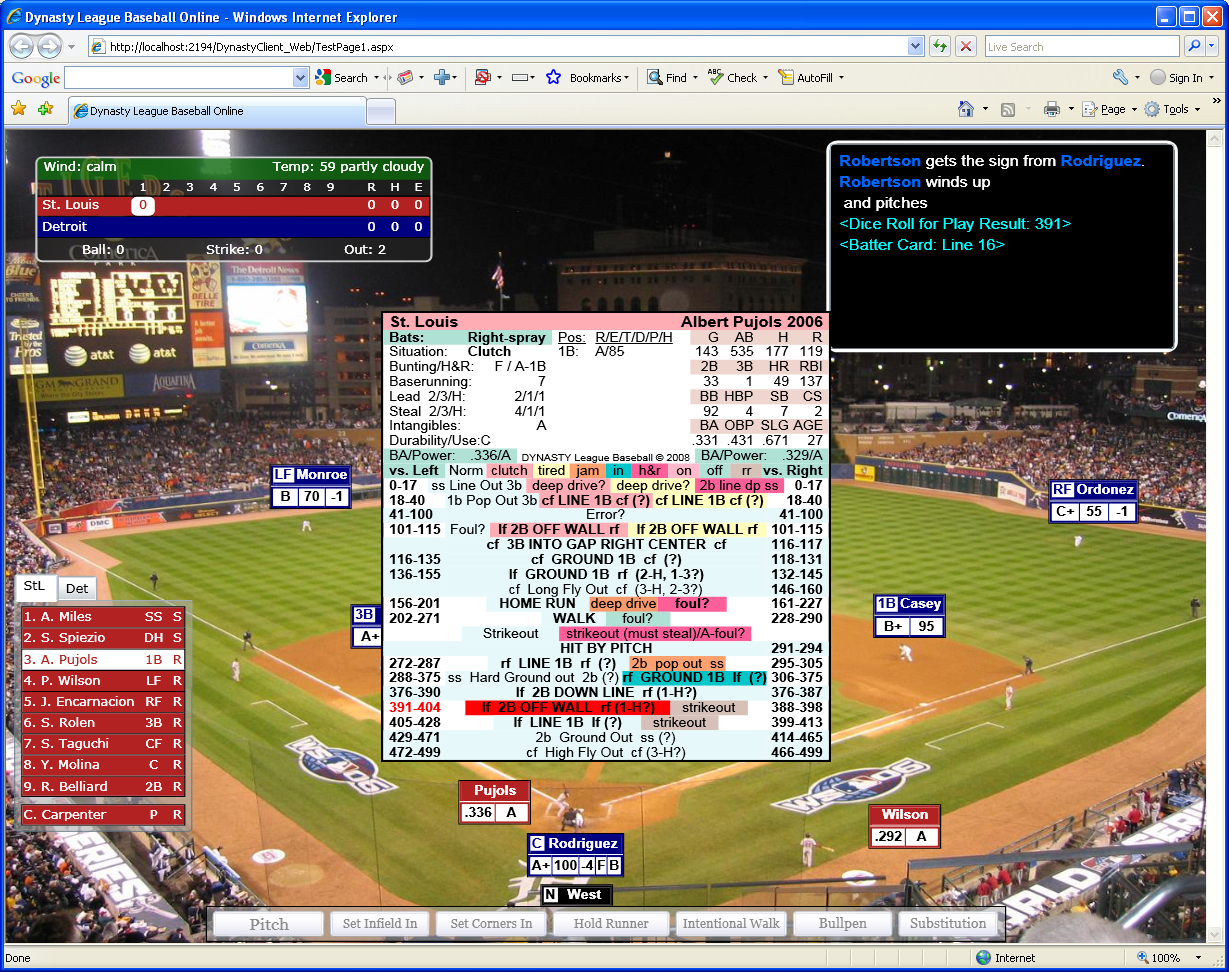 Above: Screen shot of the new DYNASTY League Baseball Online version with Albert Pujols player card. Note that the play result blinks in red right on the player card.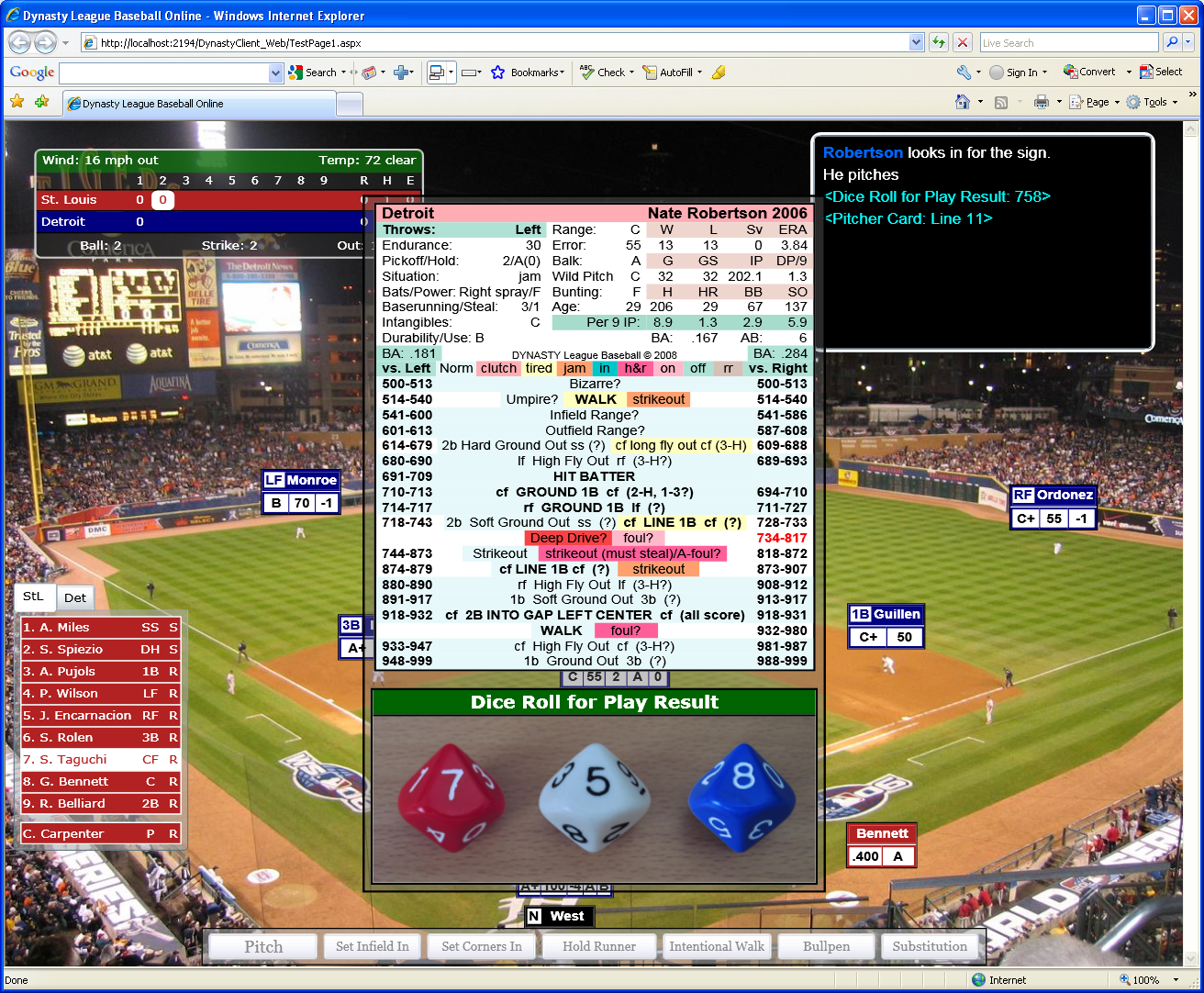 Above: Each dice roll can be displayed with the matching green header that shows what player card or game chart the dice are being rolled for.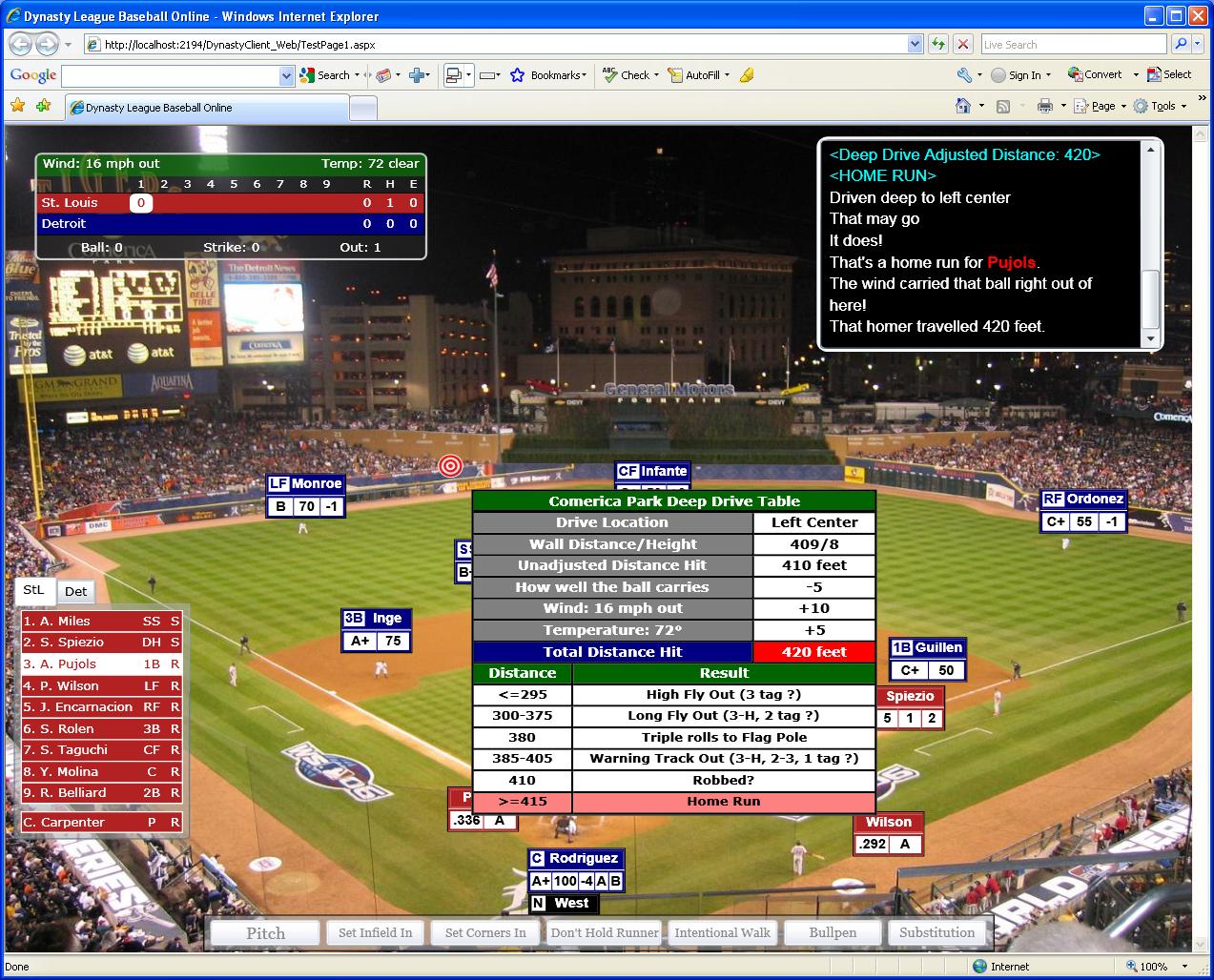 Above: Albert Pujol's 420 foot HR to left-Center is shown with the new flashing red target that shows where the ball landed for all HR locations.





Above: Magglio Ordonez player profile screen shot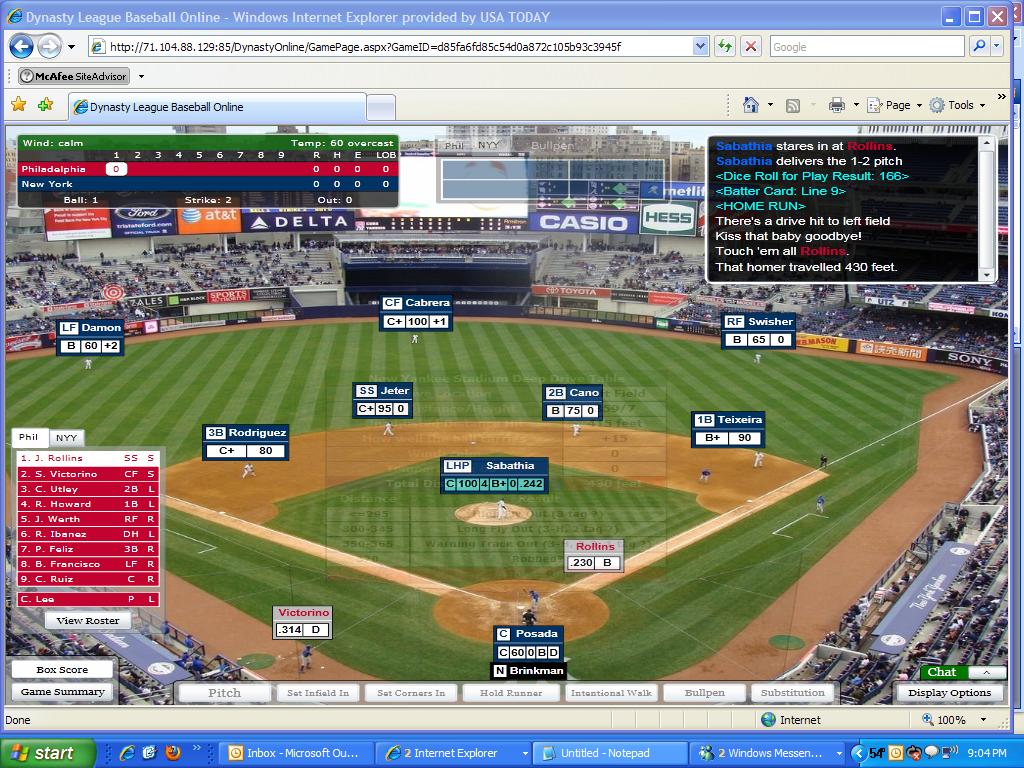 Above: Jimmy Rollins hits a lead off HR in New Yankee Stadium in the 2009 World Series played for USA TODAY.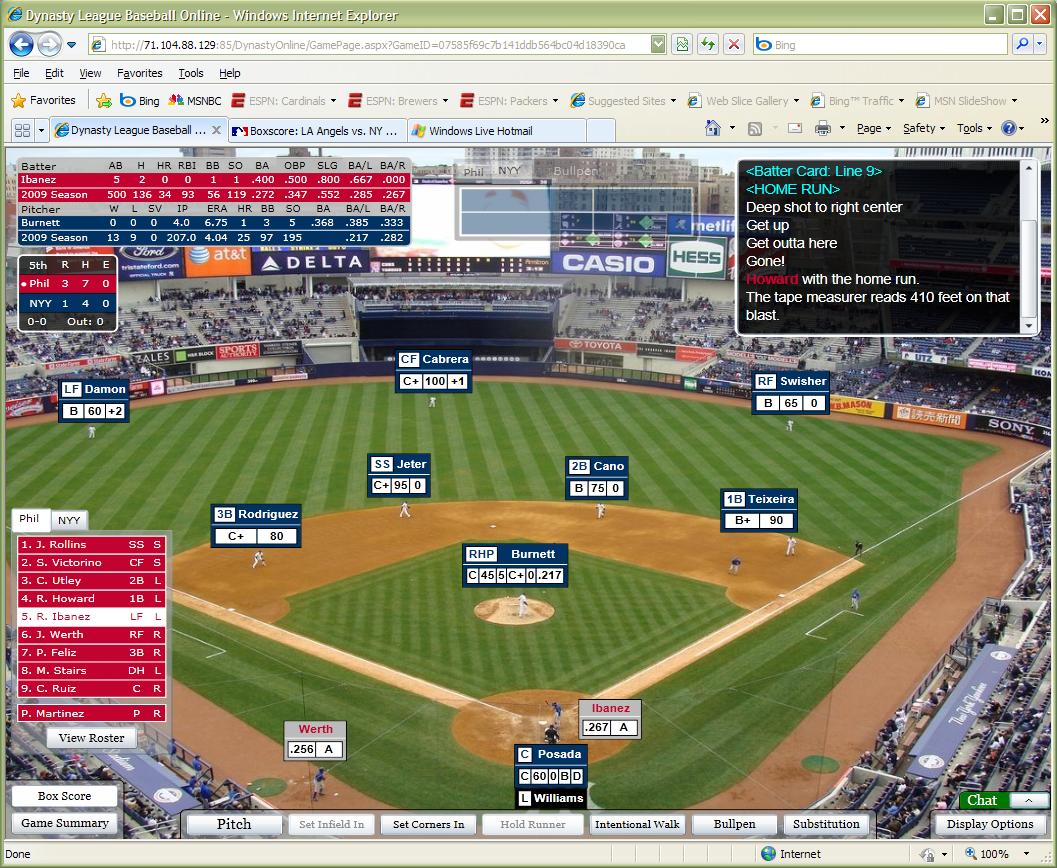 Above: Ryan Howard homers at Yankee Stadium in the Toronto FAN 590 radio 2009 World Series preview. Note the alternate stat scoreboard in the upper left that changes when you click on it.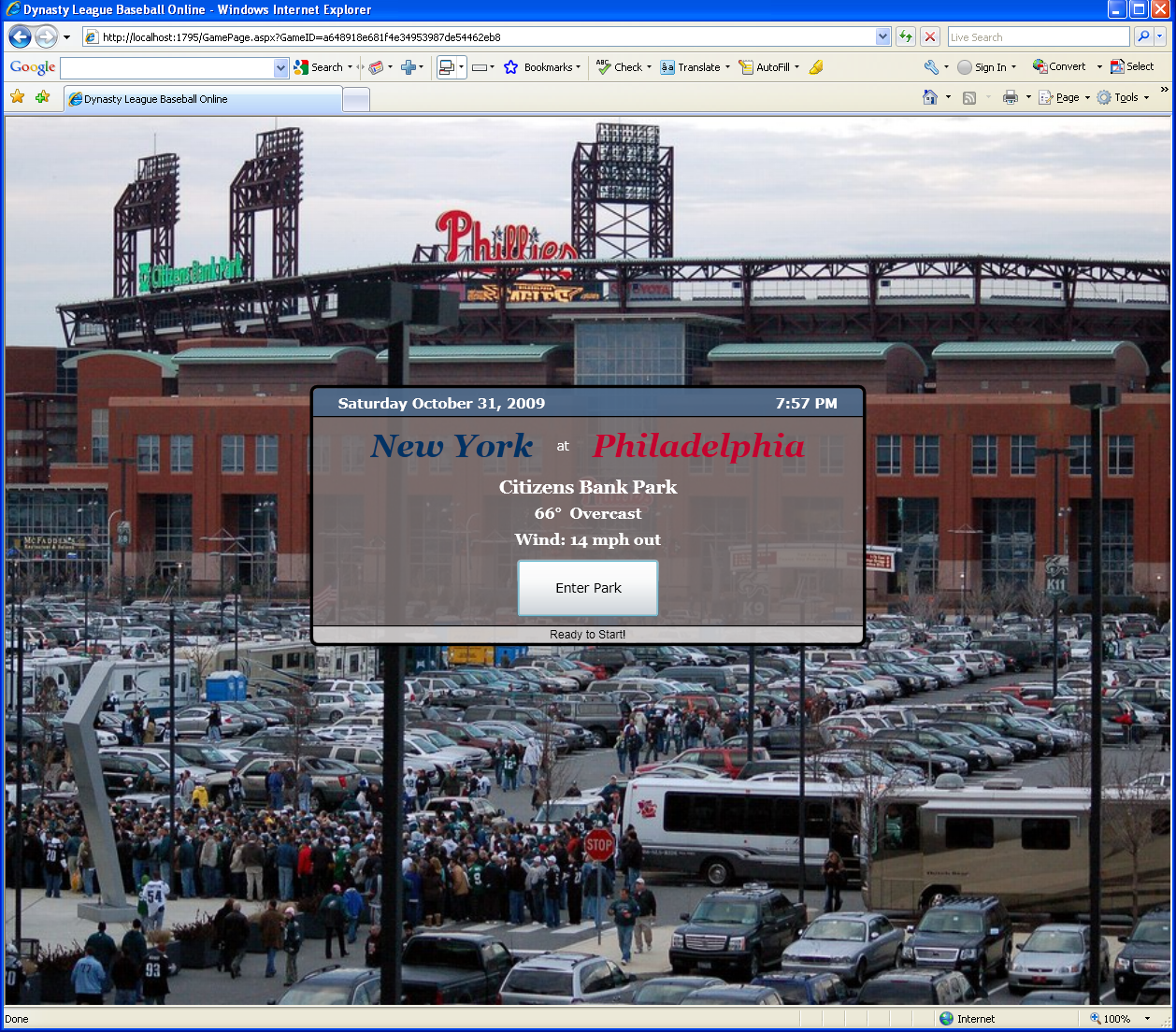 Above: Citizens Bank Park outside is the first screen you see when playing in that ball park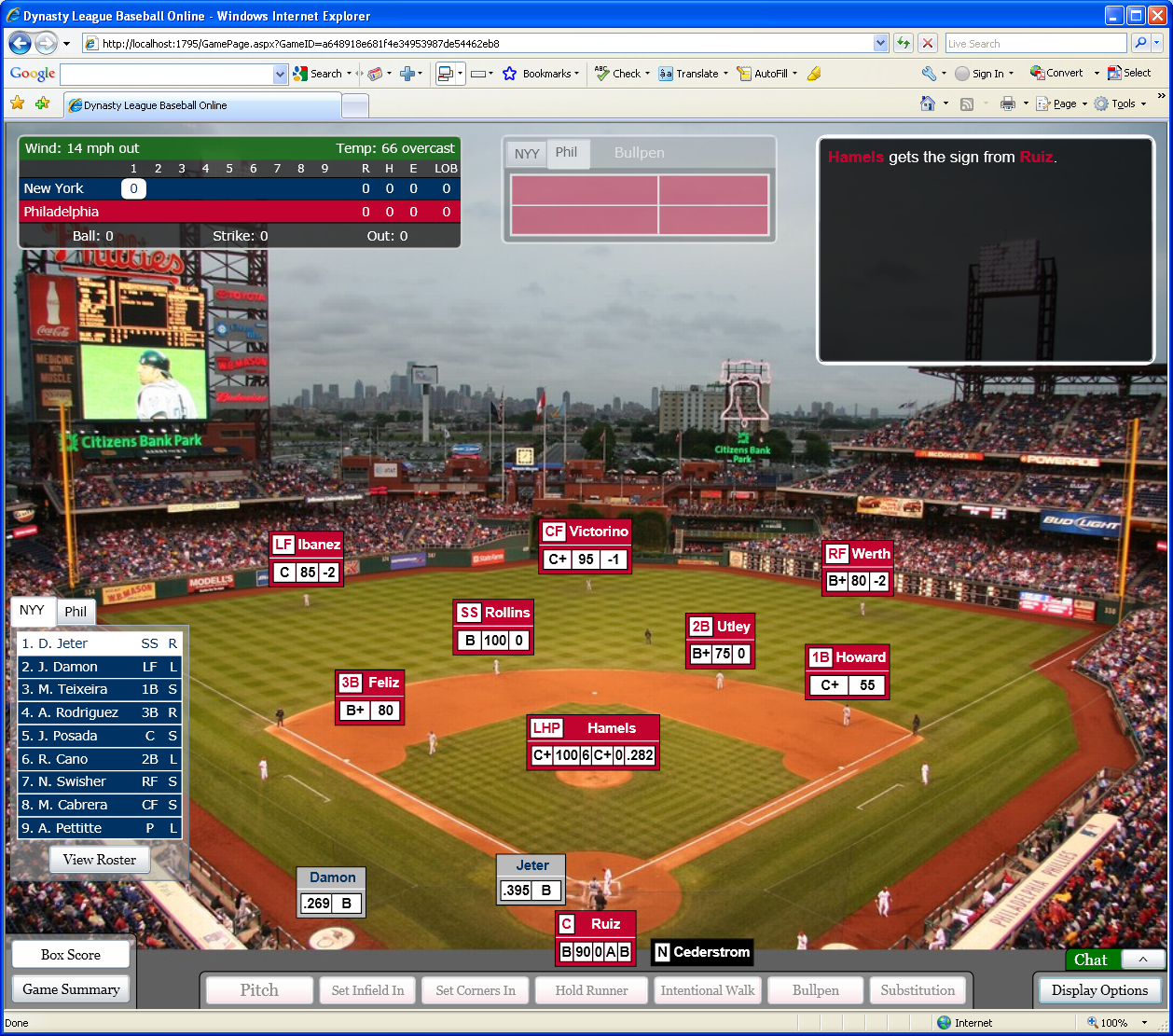 Above: Citizens Bank Park during the 2009 World Series

Below: Outside ball park screen takes you inside the ball park in one click and you are ready to play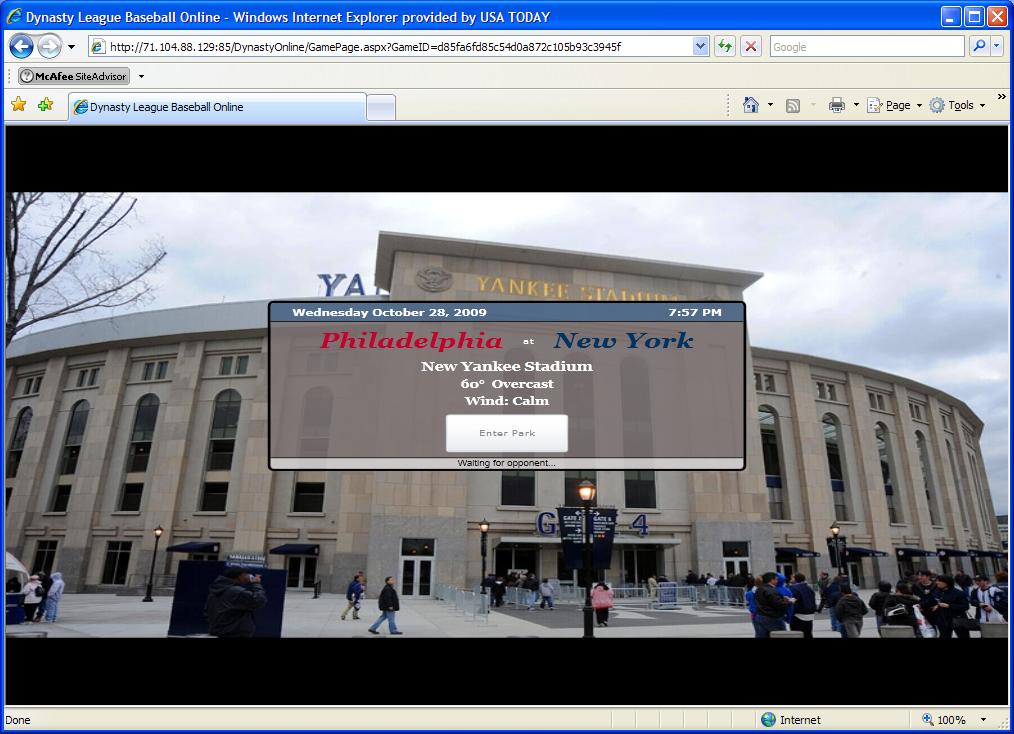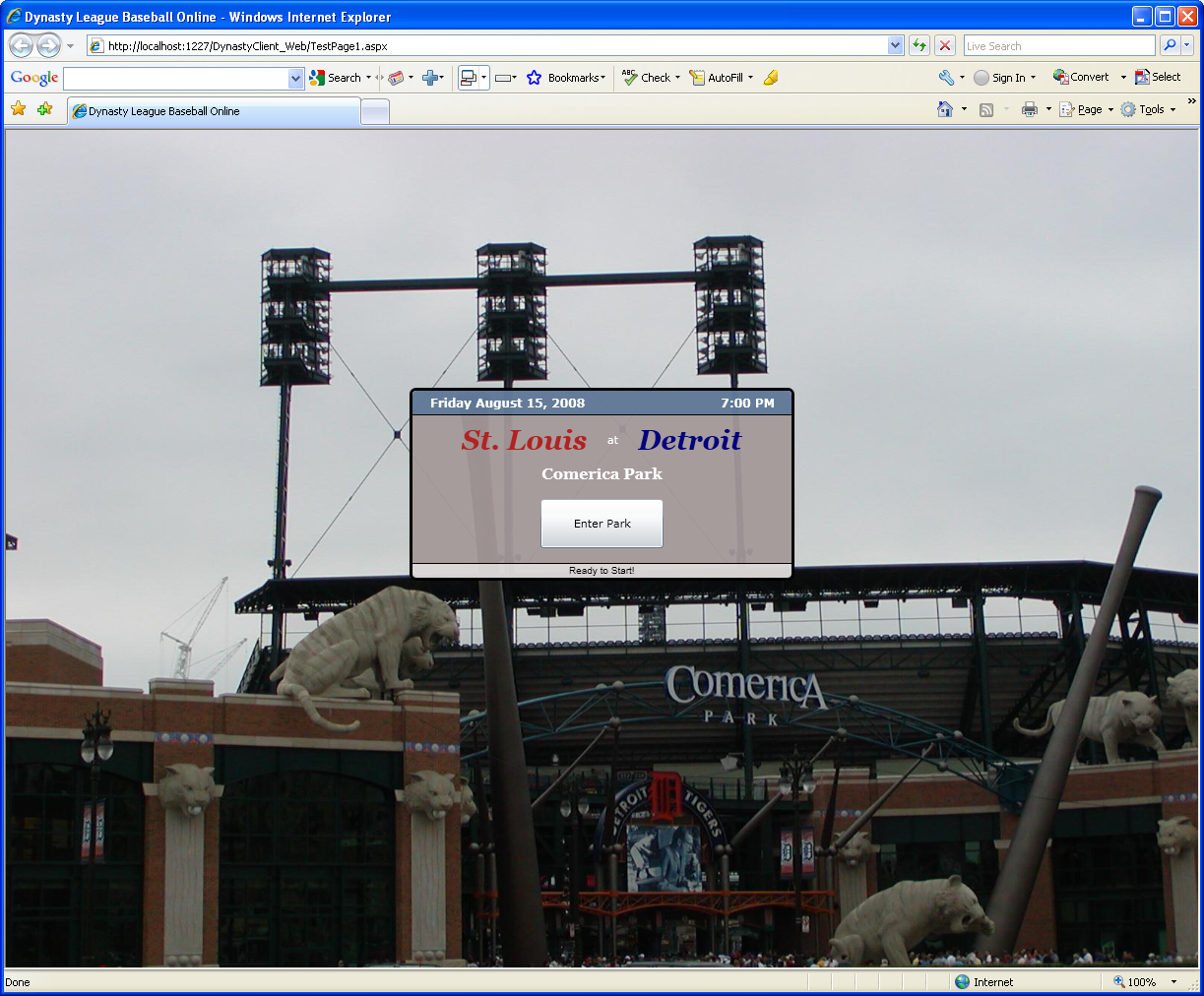 View the game summary report from DYNASTY League Baseball Online.

View the box score from DYNASTY League Baseball Online

Below: When your mouse goes over a player rating it tells you about the rating with a tool tip. Check out CF Curtis Granderson.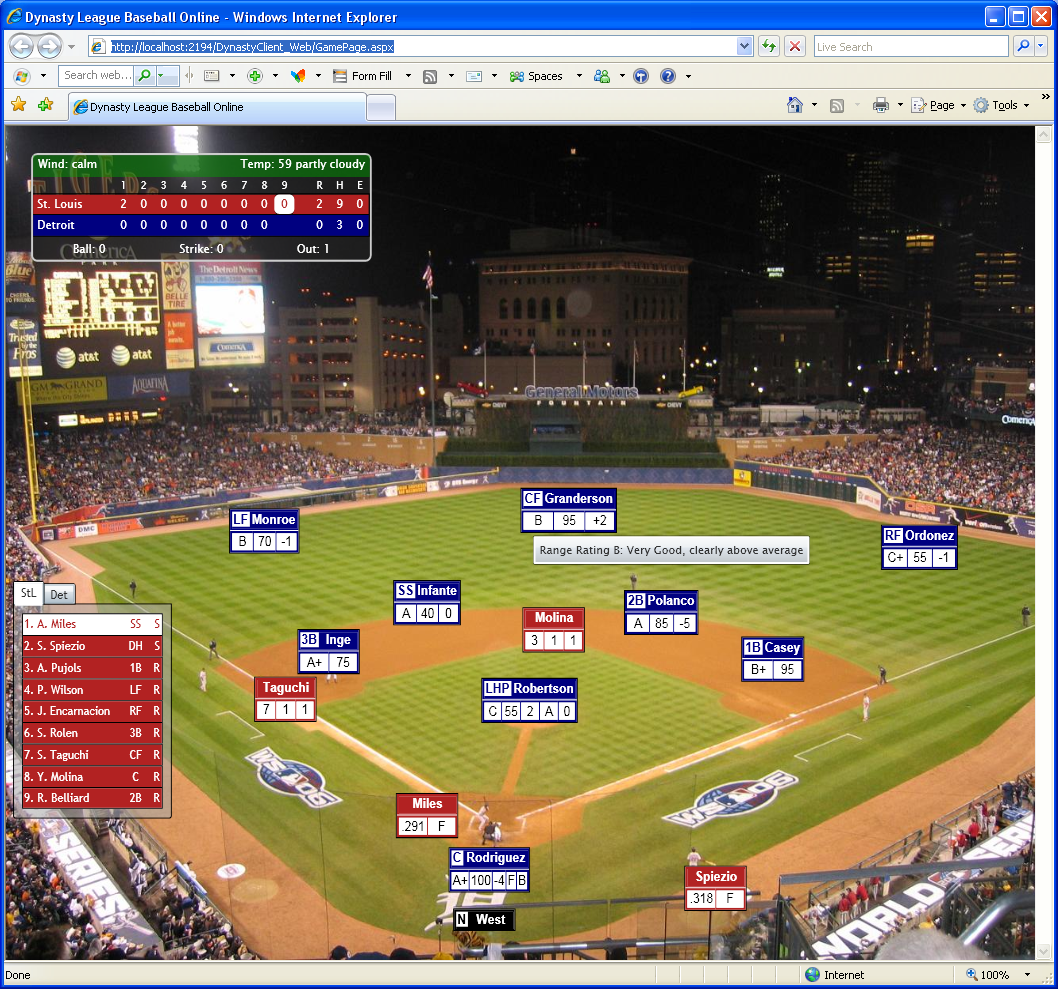 Below: Albert Pujols hits a Deep Drive down the left field line with a pie chart displayed to give you the fair and foul percentages.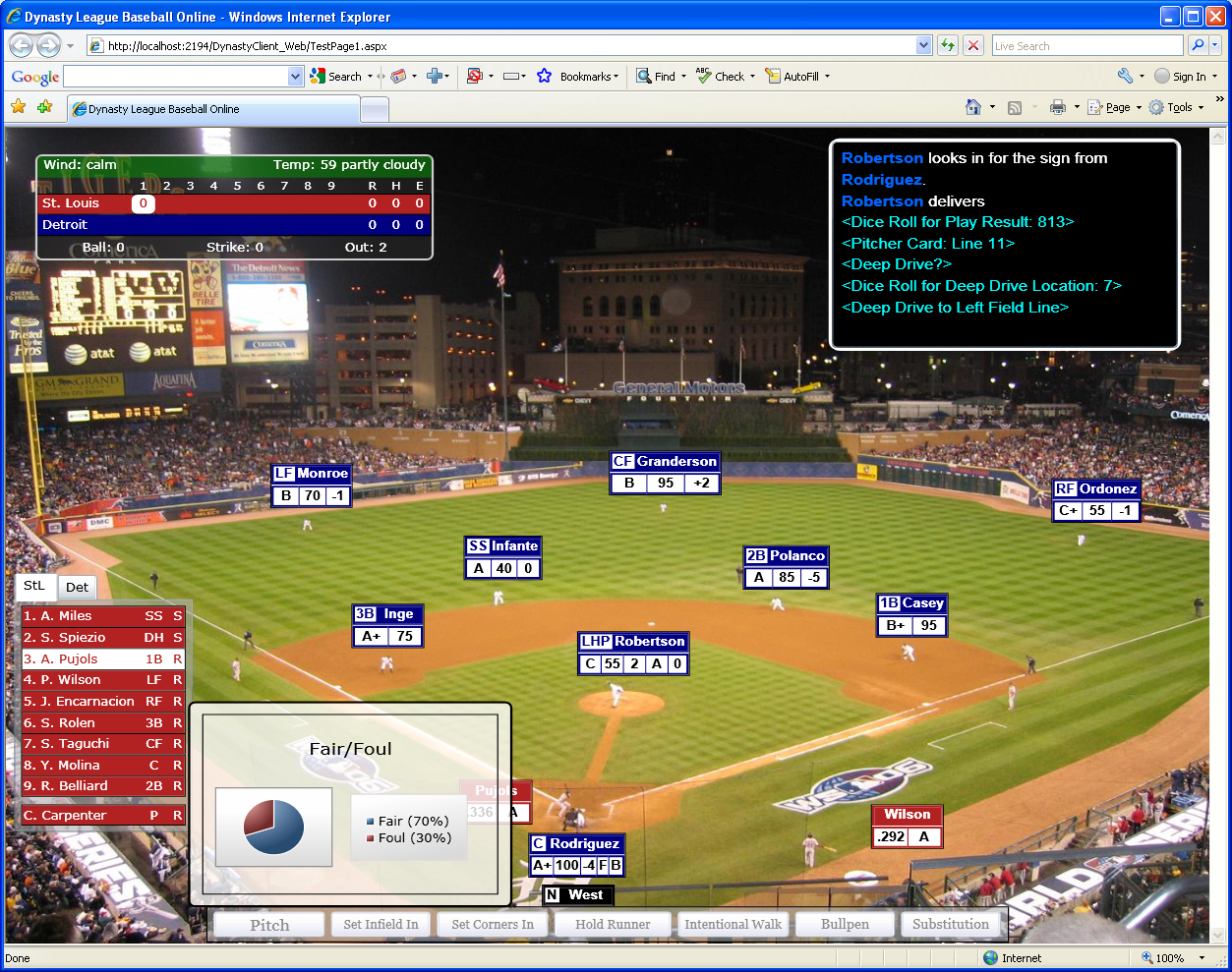 Below: Pitcher and Batter situation colors alert you as to when a situation rating is in effect (Terror in the Clutch, Tough in a Jam, Rarely allows lead-off walk, Rarely allows HR with runners on base)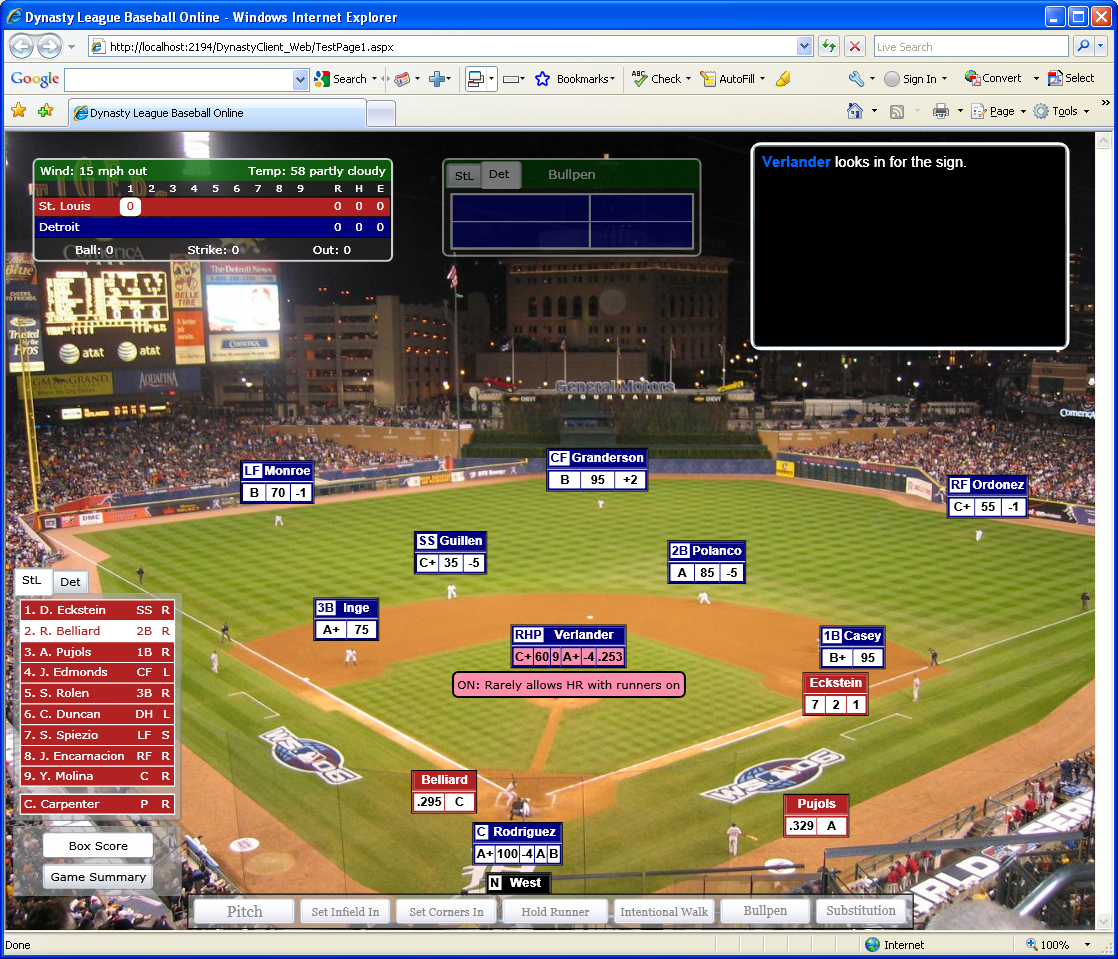 How does the new DYNASTY League Baseball Online version work?
You sign on with your user name and password through your Internet Explorer or Safari browser at the new web site for DYNASTY League Baseball Online. From there everything is already set up for you and you will easily be able to play live online with players using Vista, XP, Windows 7 and Mac OS.

What kind of tournaments and leagues will be available?
You are able to join public and private bracket style Greatest Teams tournaments and continuous season draft leagues.

You can also play solitaire "Series" vs. the computer manager or vs. friends.

What is the benefit of DYNASTY League Baseball Online for tournaments and leagues?
Live game play is easy and fast to connect. One click on the join game button and you are playing.

A new Computer Manager lets you play if you can't make a live game.

Stats, standings, league leaders, box scores and game summaries are instantly available in real time after each game for your entire league.

Tournament and leagues runs like clock work with everything scheduled for you.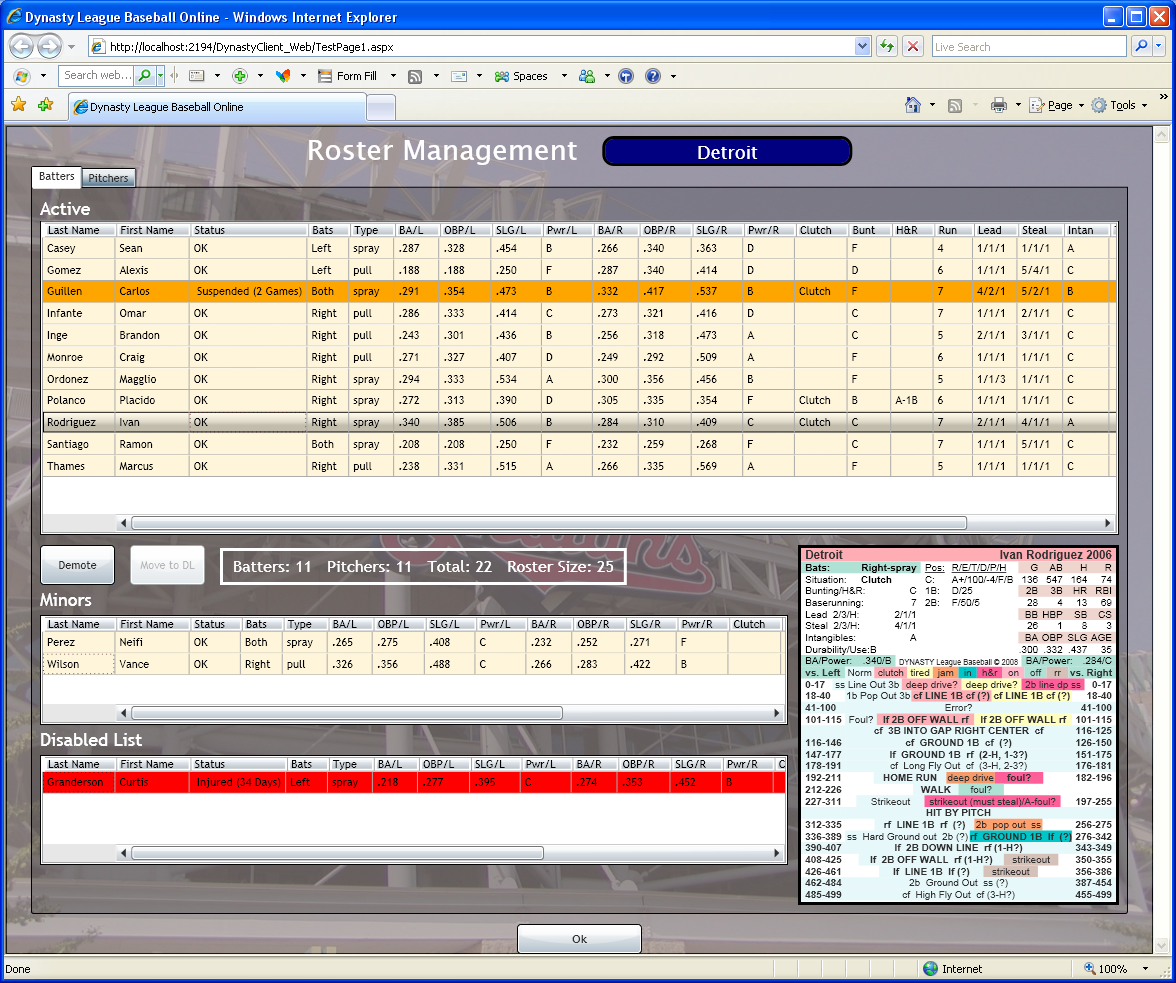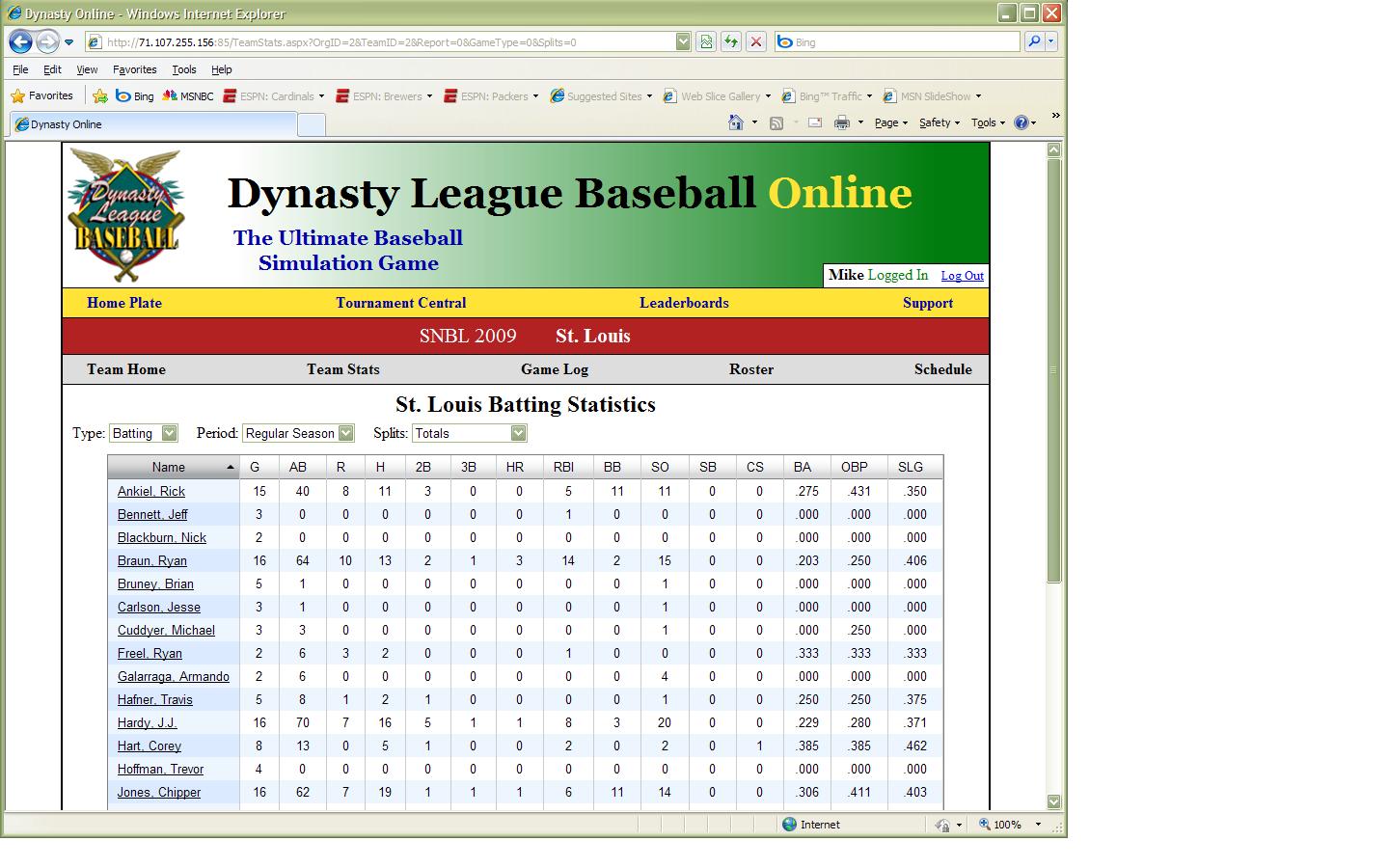 Above: Sortable stats for all your leagues and teams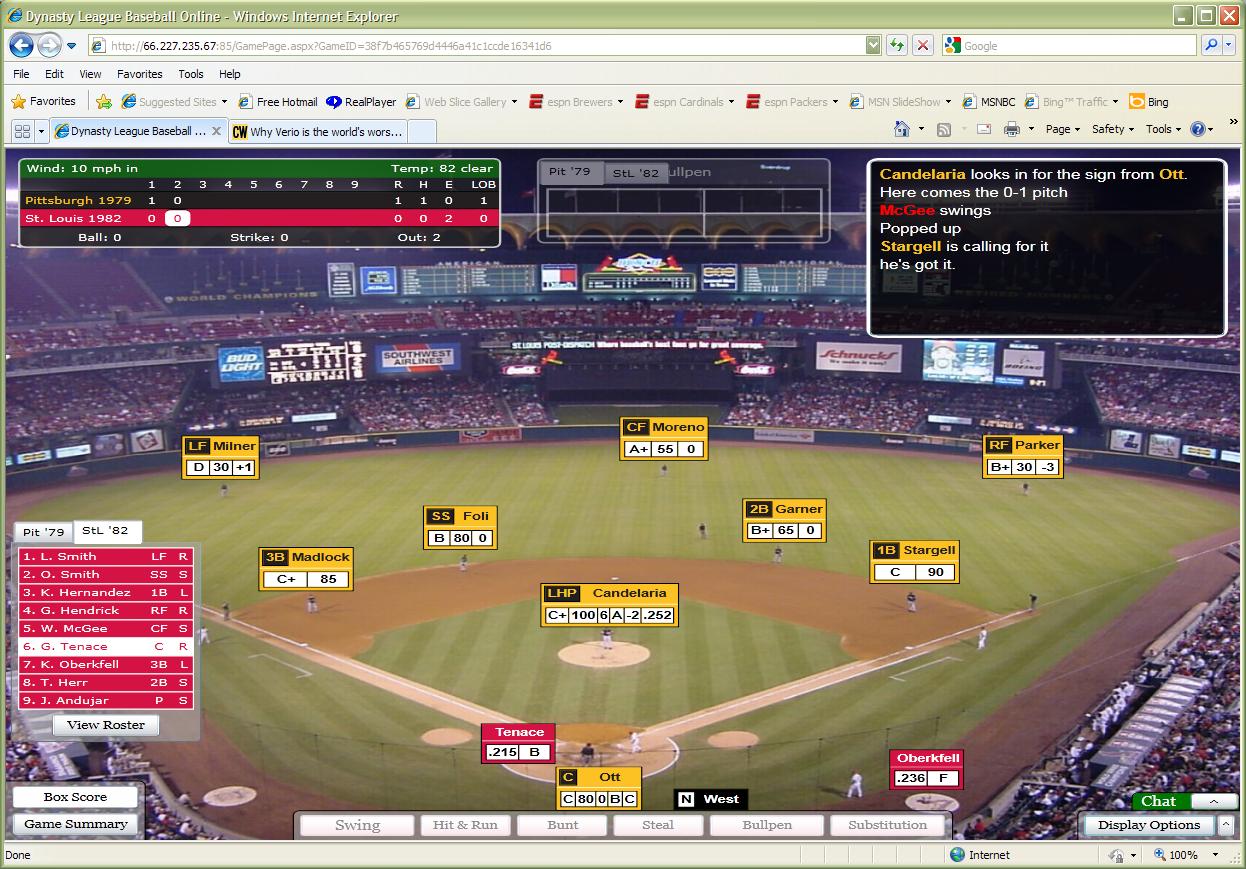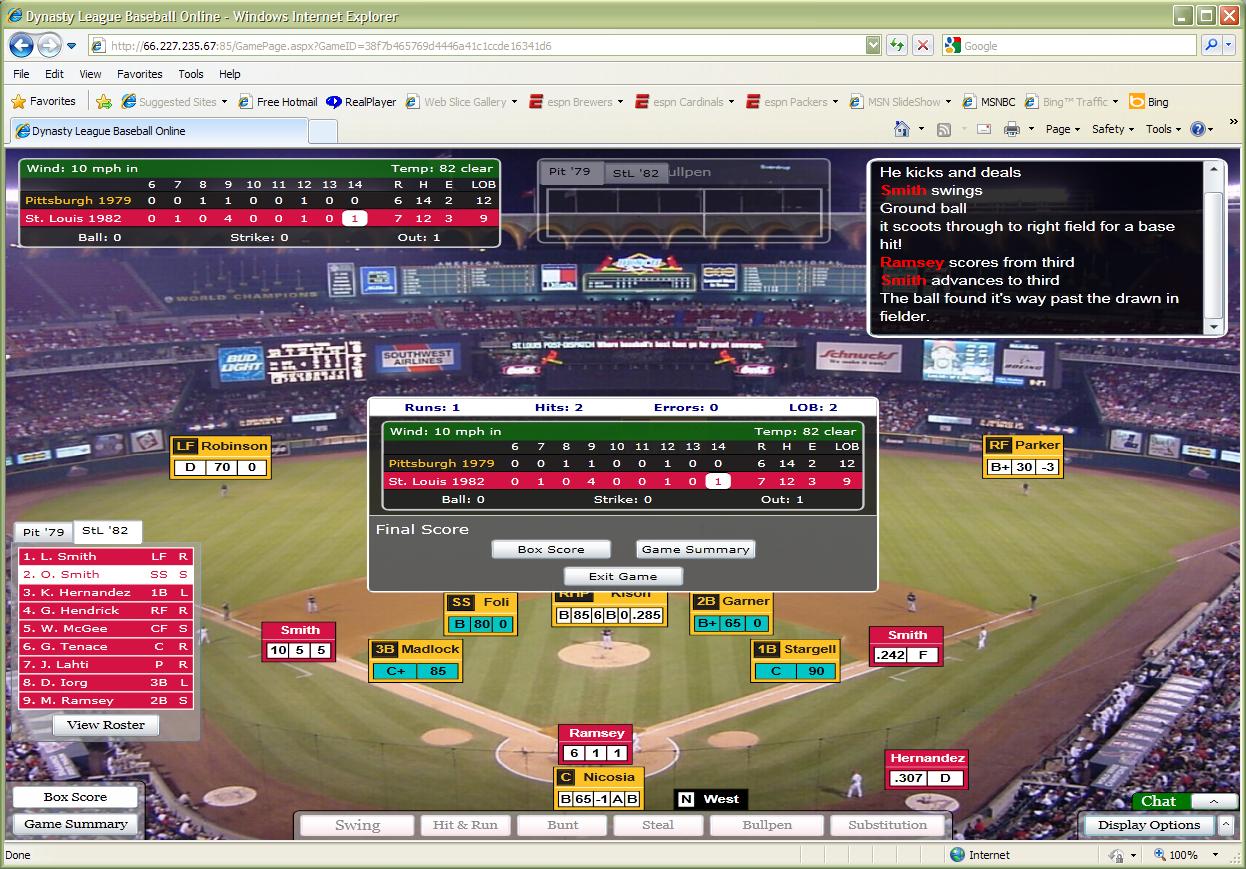 DYNASTY League Baseball Online is now available!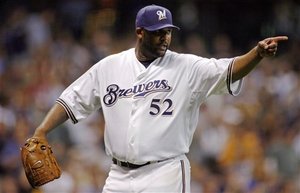 ---