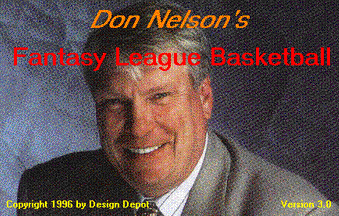 <![if !vml]>

<![endif]>

Look for the future release of the Don Nelson Basketball simulation Online game


---
SPORT
December 1996 Issue
Design Depot created the software for Don Nelson's Fantasy League Basketball as a way for you to organize your fantasy basketball league, and it does the job magnificently. With the help of STATS Inc., the well-known sports-information and statistical service, the software eliminates the hassle fantasy-leaguers experience of having to track player through weekly newspaper reports. Download the stats as often as daily, if desired, using the weighted scoring system that was developed with the help of NBA veteran coach Don Nelson. The system is complex but realistic, measuring not simply point, rebounds and assists, but everything from shooting percentage to assist-turnover ratio. The nine categories are then weighted percentage-wise based on importance. If you don't prefer that scoring system, others - including your own - are available. The user friendly software makes everything about your fantasy league easier to manage and is a must.


FANTASY SPORTS Magazine
FALL 1995 Issue
GET WITH THE PROGRAM...
USING DON NELSON'S FANTASY LEAGUE BASKETBALL PROGRAM
CAN MAKE LIFE EASIER
BY BILL SCHOPF

For fantasy basketball players, nothing beats the thrill of draft night, when seasons are won or lost by your actions of selecting the game's top players. That one great night leads to five great months of trading and acquiring players and charting your team through the NBA season. The fun of being your own general manager is what a fantasy league is all about. What isn't so much fun, though, is
compiling fantasy league statistics.

Design Depot's program features a weighted scoring system developed by the program's designers with the input of coach's Don Nelson and Donny Nelson. The scoring system assigns weights to nine statistical categories. The program weights the statistics to simulate the effects that the different categories contribute to actual NBA performance profiles.

The system's rationale is this: Each ball possession in the NBA translates into one point. On the basis of this, points scored and field goal percentage are assigned equal weight to balance actual scoring with the number of shots taken. As a result, the productivity of Michael Jordan's 27 ppg will be diminished somewhat by his relatively low 41% shooting from the field. Offensive rebounds
are weighted slightly higher than defensive rebounds because of the increased scoring chance with the ball close to the basket. Thus, Dennis Rodman's 5.6 offensive rebounds per game will have even more value to a team using this system than to a league that doesn't factor in offensive rebounds.

Some might argue that Don Nelson's Fantasy League Basketball weighs blocks and steals too heavily. But in the NBA, the intimidation of a shot blocker like Shawn Bradley or Dikembe Mutombo underneath the basket, and the quick hands of a Scottie Pippen or Gary Payton outside, cause constant offensive disruption. Using only offensive categories unfairly evaluates defensive
specialists like Bradley and Mutombo and can make them questionable picks in fantasy leagues.

The Don Nelson system gives a truer measure of their effect on a game.
Assist/Turnover ratio, a measure of ball handling abilities, is another category often underappreciated in fantasy basketball, but critical to the success of teams in the NBA. Sharp fantasy owners using the Don Nelson system will know that John Stockton's 4:1 assist/turnover ratio will help them immeasurably more than, say, Penny Hardaway's 2:1 ratio or , even worse, Latrell Sprewell's 1:1 ratio.

Free throw percentage and three-point shooting percentage are assigned the lowest rating as Nelson feels they have the smallest impact on an NBA game. The categories and assigned weights are as follows:

1. Points 20%
2. FG% 20%
3. 3 PT FG% 5%
4. FT% 5%
5. Off Rebounds 11%
6. Def Rebounds 9%
7. Assist/Turnover Ratio 10%
8. Steals 10%
9. Blocks 10%
The software is as user-friendly as you can find. Everything is point and click with a mouse, and the program does all the dirty work. Minimal, if any, typing is even required. The user has little to do, but move the arrow with his mouse and click on easy-to-read menus. The software does the rest.

For example, a click of the mouse allows you to change any or all of the nine weighted statistical categories. Another click of the mouse brings up complete team reports. Another click allows you to call up rosters and activate, de-activate or trade players.
Once you register and pay the $30 registration fee for the STATS Inc. downloads, STATS provides a communication program to run with your computer. Once logged on, simply follow the instructions to get to Don Nelson Fantasy League Basketball option and download into your leagues rosters.

STATS file brings users up-to-the-minute statistical information and all new NBA roster acquisitions from the CBA, Europe and free agency. Most leagues download for STATS weekly, although you can download daily, twice a week or every other week —whatever you wish. Download time is a matter of only a few minutes. The more you do it the quicker you get. Users pay only the usual charges to their long distance carrier — normally a buck or so for each download. Again, by dividing this cost among all league members, the expense is minimal.

The software provides weekly and season profiles that allow users to measure performance and decide on roster moves. It keeps track of three categories of players active, reserve or inactive and former players. The software accumulates all statistics from previous weeks' rosters and incorporates new statistics with the latest team rosters. If you trade David Robinson for Shaq four weeks into the season, then the Admiral's statistics for only those four weeks count for you in the week-by-week cumulative numbers provided by STATS. Shaq's numbers will count for you only beginning with his acquisition.

Additionally, the software quickly number crunches standings based on each of the weighted categories. A first place team may compile 84.8 points, a second place team 77.3 points, etc. A variety of easy to read reports are available; weekly or season summaries of all nine categories by team or league, standings and transaction reports. Head to Head scoring and scheduling options are also available.